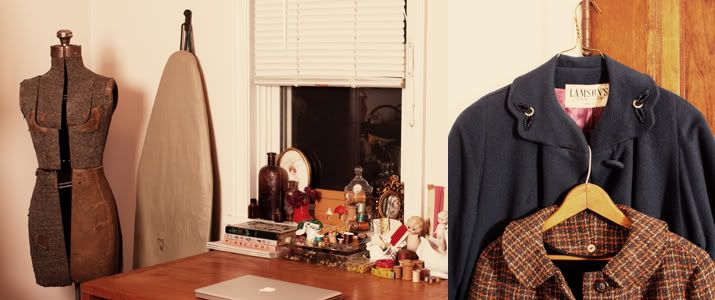 here's a quick peek into my work room!
i wrote about my work space makeover in an earlier post and wanted to share more images with you of where i spend most of my time these days. now that i've cleaned this room up a bit and organized it better, it feels like there's tons of space in here - at least plenty of room to work on all of my flying carousel-related tasks and also sew and print.
it's so much fun to to work in this room surrounded by beautiful vintage clothing & accessories as well as my beloved collection of vintage collectibles that i've gathered along the way. all of the inventory currently listed in the store is actually being stored in the closet - what you see here are just a fraction of the items i still have left to put up. i guess i've got lots of work to do... good thing it makes me so incredibly happy to help give these items a new life!
☆

c. emilia

☆
*woman pictured - lola smith of "The Tennesseans"