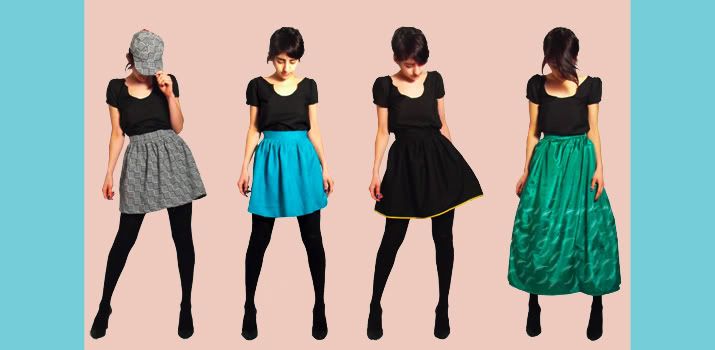 i recently ordered a copy of diy couture's book how to make a pleated skirt, the first in a series of instructional books aimed at teaching the average person how to sew without using complex sewing patterns.
the idea behind diy couture is to make the reality of constructing unique, personally fitted clothing accessible to anyone. easy-to-follow diagrams and photos offer simple visual instructions for garments that can be endlessly reinvented in a million different ways. for instance - designing your own pleated skirt means you can play with the length of the skirt, number of pleats, width of the waist band, and weight of the fabric (stiff & puffy vs. draped & flowing) on top of experimenting with stripes, blocks of color and pattern. the possibilities really are endless!
i've been brushing up on my beginner-level sewing techniques recently and am so ready to move on past tote bags & headbands to intermediate-level skirts, shirts and dresses. i've been working through the projects in red velvet's diy dress up e-course and am slowly seeing improvement as the projects get more and more complex (i will share pics of my progress so far next week.) but, as soon as my diy couture book arrives i think i'm going to have to switch gears & give the pleated skirt a shot. i am swooning over the idea of using custom printed fabric once i get the technique down. super exciting stuff!!