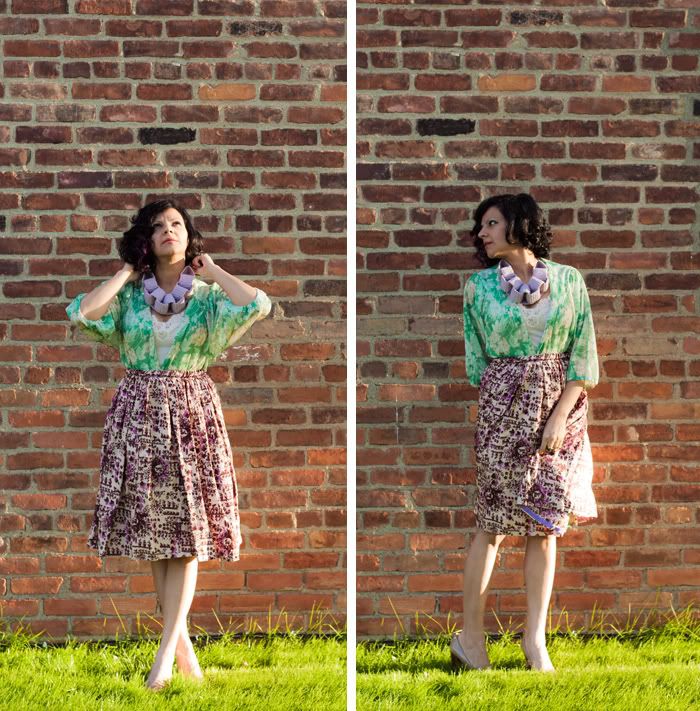 i'm so happy to finally be sharing these pics with you of my last completed crochet project of the season - a crochet chain necklace. i actually finished this necklace in february and haven't touched the hooks since - i don't think i'll be getting to those slippers i wanted to make until the fall, which is ok... i love having a seasonal hobby that i can take a break from.
the inspiration for this chain necklace came directly from FUDUMUDU's chain necklace design. i've had a few different colors of their iconic chain necklace on my etsy 'favorites' list for over a year now and after completing the big daddy chain i was still on a 'crochet chain' kick so i figured i'd try to replicate it - if it came out horribly, i could always just save up for the original like i'd been planning on all along.
i used my favorite luxury cotton yarn - rowan "calmer" in lavender (the same one i used for my detachable collar) - so the necklace could work as an all-season accessory. i began with a basic rectangular swatch using single crochet stitch, 10 stitches across and long enough to attach the ends comfortably to form a loop (about 6 or 7in.) once the swatch was the appropriate length, i used a slip stitch to join the ends and kept adding links on as i completed them - eleven all together. i divided this project up into swatches, completing one each day, so it took me about 2 weeks to complete the entire thing. i bought some inexpensive gold chain, o-rings & clasps to make the chain and have been having fun experimeting with the lengths ever since. if i wear it tighter around my neck, it sort of looks like a crochet elizabethan collar - love!
for these pics, i paired the necklace with a couple of recent vintage finds - a sheer green floral dress & purple floral pleated skirt - and an old tea-stained slip plus nude heels. i love the look of a full skirt paired with a short dress as well as the added warmth from all the layers - a definite plus on those cool, crisp spring days. this skirt is quickly becoming my favorite spring standard! i didn't even realize when i bought it that there are tiny deer hidden throughout the pattern - i almost died when i got a better look at it once back home. they're difficult to pick out, but you can spot a pair in the bottom left corner of the last pic (one is upside-down) and another one to the left of my right sleeve - can you spot them? ... aren't they just darling?