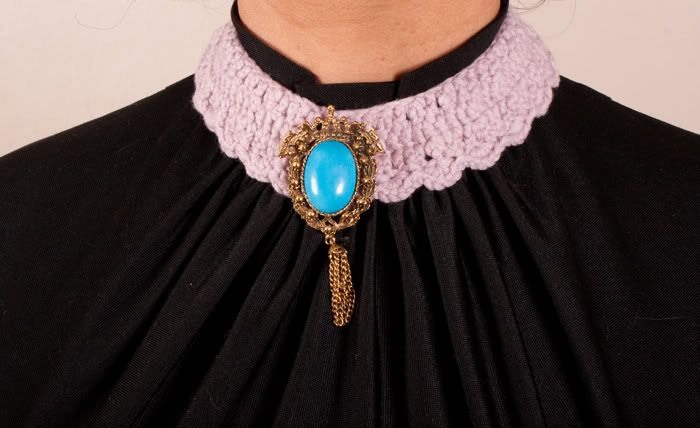 we're still pretty crazy about detachable collars over here at the flying carousel headquarters. i've been scouring ravelry and etsy for quite some time now looking for the perfect detachable crochet collar pdf pattern to work on but kept running into dead ends at every turn. who knew it would be so difficult to find a cute, simple crochet collar pattern?
a little further research on the web led me to this simple, easy-to-follow detachable crochet collar pattern by iro iro. i made the small lavender collar first using rowan cotton "calmer" yarn and the suggested 4mm size hook. for the white collar, i stuck with the same size hook but switched to uber-soft debbie bliss cashmerino yarn. what a difference the thicker yarn made - the white collar came out so much bigger!! i love how you can really see the cute scalloped edging on the white collar - so adorable!
i've paired each collar with a different vintage dress and my black lita's for a sweet & sort of dramatic witchy look - two opposite but equally authentic expressions of my self. a bright turquoise hair ribbon and vintage turquoise brooch add a fun pop of color to each. after seeing this amazing "freak show" animated fashion shoot, i knew i wanted to try my hand at some animated gifs. it was sooo much harder than i thought but still had a lot of fun putting this little shoot together.