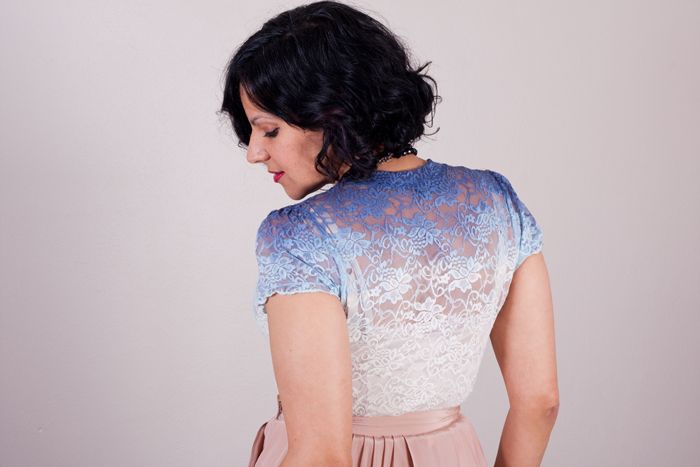 i couldn't help but get caught up in the "dip dye frenzy" last season on a pair and a spare - i'm pretty sure it was geneva's dip dye ombre mini skirt diy that made me fall in love with the blog and i've been a devoted fan ever since. she gave me the inspiration to make my own glitter shoes and i've been wanting to try another one of her diy tutorials for a while now (or, rather a whole bunch of them) but hadn't come across the right materials… until now!
a couple of weeks back, i came across a cream lace top on a thrift store run and then a homemade vintage white polka-dot skirt at a rummage sale. both of the items were crying out for some personality and the vintage skirt had a few tiny brown spots along the hem that refused to come out. i used the same technique geneva used on her ombre mini-skirt with a combination of navy & teal RIT dye for the lace top and pink RIT dye for the skirt. the top took a few days - i didn't want to overdue it so i kept dyeing and washing and dyeing some more - even using an old toothbrush at one point to spot dye a couple of areas until i was happy with it.
the skirt was inspired directly by the fam irvoll dress i mentioned a couple of weeks ago. i love the little burst of pink - i can't tell you what a difference it made to the skirt… it really brought it to life! one problem is that the skirt is incredibly sheer and i don't have a long enough slip so i'm on the lookout for a longer slip. overall, i'm absolutely thrilled with the results and can't wait to give another one of geneva's diy's a try! they're so quick & easy - almost instant gratification - and really breathe new life into old, outdated pieces.