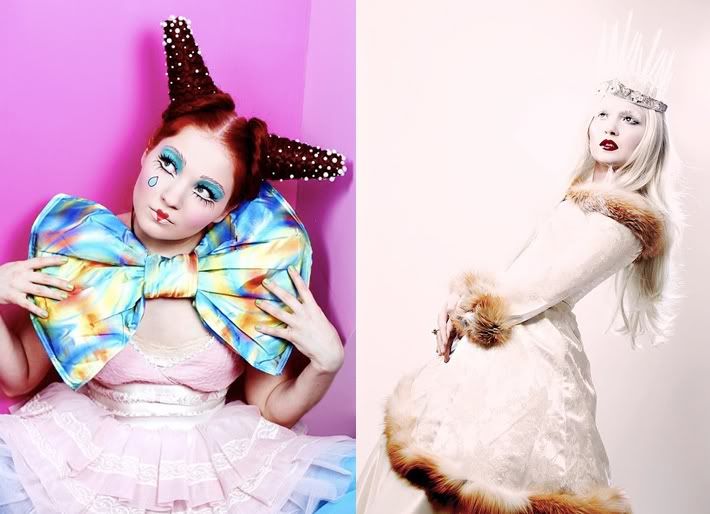 if you asked me to list who has been most influential to me throughout the years in terms of style, creative vision, and a fearless, confident & positive attitude towards life & work doe deere would definitely top my list!
i've been following doe deere for so many years now - i guess you could say she was my first blog crush and like all first loves, she holds a special place for me. from designing her own clothing line to founding lime crime - her amazingly bright & bold make-up company - i am always excited to find out what's going on in her gorgeous, glee-filled world. not only is her style incredible - with influences from lolita fruits to the victorian era to fairy tales and everything in between - but she's a self-proclaimed "unicorn queen" on a mission to spread glee & cheer in her life everyday. how cool is that?
i can't tell you enough how much she has influenced my life just by simply having the courage to be herself and follow her dreams. during a time in my life when i lost sight of what my dreams where, her unique & imaginative fashion sense, ever-evolving creative vision, and bold career moves gave me the hope and confidence i needed to get out of a job i hated to pursue more exciting and fulfilling creative projects. even now with her new tumblr, she inspires me daily with beauty and attitude "do's and dont's," new makeup ideas,
gorgeous photos
and an occasional peek into lime crime headquarters.
i'm really excited to order myself a new lipstick or carousel gloss from lime crime for christmas - i've had my eye on the veronica lake-inspired lippy glamour 101 for a while now. but, i have to admit, the carousel gloss is pretty mesmerizing. i don't know... maybe, i'll just have to get myself both!