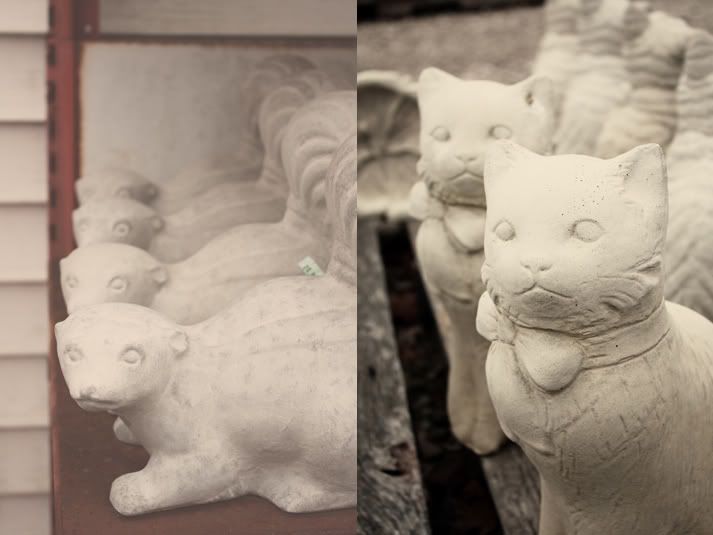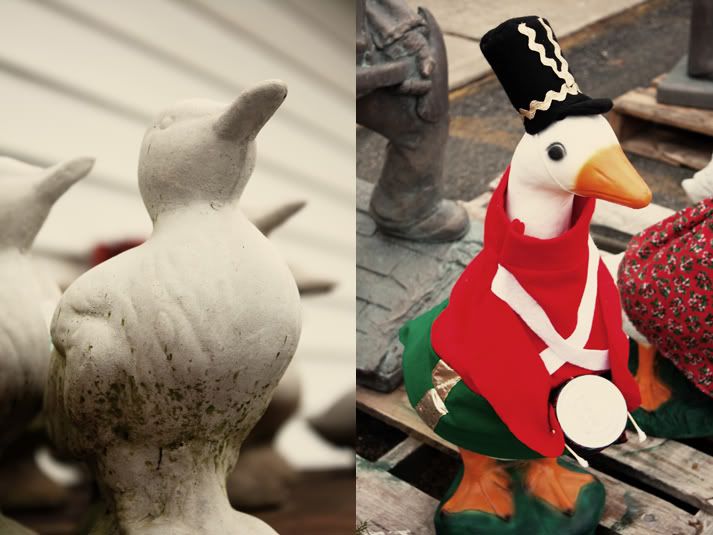 during a long day of christmas shopping with my sweetie, we took a quick break out to visit bombrys ornamental concrete garden art shop. i live just around the corner from this place and i've been noticing the little drummer/toy soldier duck for a few days now - he's right out front by the side of the road and i just couldn't help but stop today to snap some pics of him and his holiday friends.
this place is all kinds of cool and i was squealing with delight at every turn as i spotted packs of puppies, kittens with bows, teddy bears, gnomes, christmas deer and even santa himself. the large numbers of repetitive objects give brombys a really neat feel - almost like a huge, outdoor fine art installation.
it has such a magical quality to - sort of like a frozen christmas wonderland - and i think it really comes to life this time of year.
i would love to have a small collection of gnome or forest friends in my backyard someday inspired by this place, with that same fine art installation feel.
well - christmas craft & gift making is officially underway at flying carousel headquarters this weekend and i couldn't be happier. i hope your weekend is full of wonder and good cheer!
*outfit details: red & black turtleneck - thrifted // gray pleated skirt - vintage //
turquoise wool coat - h&m //
black ribbed tights - limited // black suede slouchy boots - guess // black embroidered bag - vintage // rings - forever 21