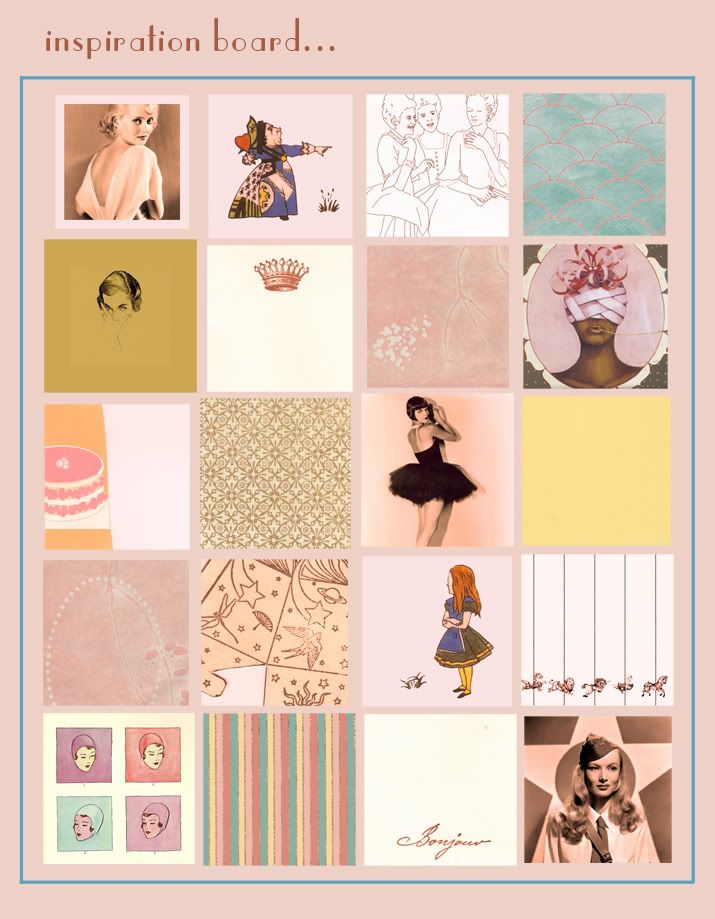 today, i'd like to share with you a bit of the inspiration behind the creation and concept of the flying carousel.
from pics of old hollywood starlets to small pieces of paper and ephemera i've been collecting for ages, the items detailed on the inspiration board above have been some of the most influential in determining the direction and aesthetic of the shop besides the actual vintage pieces themselves.
while developing the particulars, i was feeling a bit obsessed with all things french (as i often am) and i came to the conclusion that i wanted the store to have the look and feel of a vintage french carousel. i imagined that if i eventually had a physical location for the store it must, of course, have a working vintage french carousel right in the very center adorned with gold trim & hundreds of sparkling lights (well, a girl can dream can't she?) the glimmer and shine, the muted pastels and fairytale-like ambiance of the vintage carousel - this is the essence i would like to capture.
i've always loved the carousel as a metaphor for the passing of time ("something wicked this way comes" was a favorite as a kid) and it seems particularly relevant in the case of vintage clothing. these special pieces are experiencing a rebirth as they find themselves being worn, cared for and new again - afresh with modern relevance as a cycle comes full circle.
i wanted to make sure the elements of whimsy and curiosity were central to the concept, beyond the normal amount you would experience on a carousel ride, and also wanted to evoke a sense of imagination and creativity that takes inspiration from every time and everywhere to create a unique style or beauty never seen. so, i chose to incorporate the concept of flight into the name - to add that visionary element of the endless possibilities of the creative soul.
here's a quick rundown of what's on the board:
1. bette davis - i share a birthday w/ her and from a very young age i secretly thought this made me a just a tad more glamorous (ha, ha.) her confidence & intensity = legendary.
2. queen of hearts - i absolutely adore this particular set of vintage alice in wonderland illustrations
3. illustration detail from "your demise is inevitable" by eve englezos & josh moutray of icecreamlandia. i've been carrying around this packet of illustrations since 2006 when i bought it at SPX b/c they are really, really great.
4. beautiful hand-made paper from nepal.
5. vintage fashion illustration - i love the drama and use of negative space here
6. luxe cream stationery with detailed french crown rubber stamp.
7. page from "aggregate sampler"- a gathering of artists proofs from the making of aggregate memory by lisa onstad & macy chadwick. simply beautiful - this work inspires me endlessly.
8. detail from a postcard featuring "bound / unbound"- a painting by rajkamal kahlon.
9. cake wrapping paper from paper source.
10. gorgeous pattern on the back of each "your demise is inevitable" illustration card.
11. louise brooks in a black tutu - where my obsession with the dark bobbed haircut began. lovely.
12. the perfect muted, vintage yellow.
13. another page from "aggregate sampler."
14. detail from a "DIY gift box"rubber stamp - just cut, score and fold!
15. alice - oh, how i love her look.
16. carousels - all kinds - from muted vintage french carousels to their colorful, modern day counterparts.
17. vintage fashion illustration - so simple, so cute!
18. handmade japanese paper - reminiscent of vintage carnival or circus stripes.
19. luxe cream stationery with cursive "bonjour"
20. veronica lake looking adorable in a military outfit. the juxtaposition of feminine / masculine elements is one of my most favorite fashion formulas to toy with - i'm a total sucker for uniform and military-inspired looks and veronica does an absolutely smashing job here.
i hope you enjoyed this "behind the scenes" tour of what inspires me!